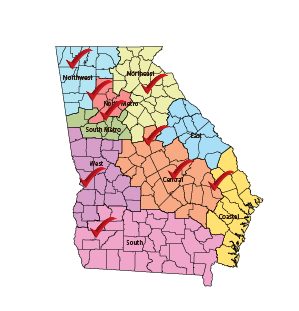 Creating Economic Development and Educational Achievement by supporting Informal STEM Learning.  
Kennesaw State University
Northwest Georgia Technical College / Northwest Georgia College & Career Academy
Albany Technical College / Albany State University
Columbus Technical College / Columbus State University
Georgia Institute of Technology
Georgia Southern University 
Oconee Fall Line Technical College / Heart of Georgia College & Career Academy
Mercer University
University of Georgia
The long term objectives are to create a support system for student manufacturing efforts, teacher support and development, workshops and training for students, teachers, & mentors, to create partnerships between local business and schools.   Providing these resources will enable the development and recruitment of students into high performing STEM career pathways. 
Another objective is to promote the growth of STEM competitions across a range of programs.  
About This Support System
There are actually multiple systems at work here.
FIRST Robotics Competition District Event Development
The
FRC
District Event development is done by Connie Haynes, Executive Director of
GeorgiaFIRST
, and the staff of
GeorgiaFIRST
.
STEM Learning Support Hub Development
The STEM Learning Support Hub Development for FRC and other STEM activities are driven by Ed Barker at Kennesaw State University and a teaming partnership agreement between Kennesaw State University and Kell Robotics, a participant in the FIRST Robotics Competition.