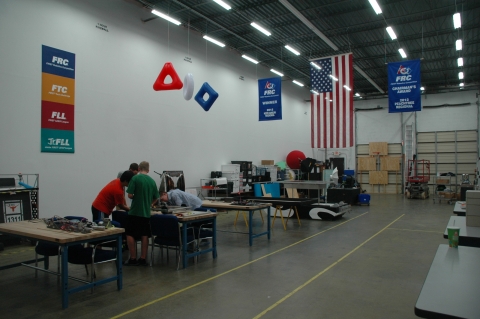 Norcross, GA. November 20, 2012 – Halco Lighting Technologies® partners with a local high school – donating ProLume® F54T5/850/HO/ECO/IC 5000K 54W HO lamps to Kell High School Robotics Team in Marietta, Georgia.
Malco ProLume lamps were installed in the team's Kell Robotics Innovation Center, an after school student research and development center that encourages student interest in STEM (science, technology, engineering and math). The Innovation Center is designed to host field projects that schools and science exploration centers are not properly equipped for. Halco's lamp donation improved the lighting throughout the center to create a more efficient workspace.
"The Kell Robotics team would like to profusely thank Halco Lighting for the contribution of 5000K HO T5 bulbs," says Ed Barker, Community Volunteer Program Director of the Kell High School Robotics Team. "This lighting installation has transformed our workspace."
Replacing Kell's existing outdated 75W 96" T12 cool white lamps with TCLP Compliant 54W T5 High Output lamps provided longer life and increased energy savings – approximately 25% – from a more efficient lighting system. Ideal for high bay fixture applications like the Kell Robotics Innovation Center, Halco's High Output lamps maintain excellent lumen maintenance up-to 94% over the life of the lamp. Coupled with a 24,000 hour lamp life, up-to twice the life of the previous T12 system, the new installation reduces maintenance costs.
In the past four years, the students have participated in over 130 events, presentations and briefings. A few highlights include being selected as a 2011 Lemelson-MIT InvenTeam – a grant awarded to only 14 groups nationally. With this grant, the team was given $10,000 to use knowledge, skills and abilities gained fromFIRST programs to invent the oil skimming robot called ORCA (Oil Recovery & Capture), which they proposed in response to the 2010 Deepwater Horizon disaster. Earlier this year, the team was invited to exhibit at the White House and briefed the U.S. Congressional Robotics Caucus on the value of co-curricular STEM activities to national priorities such as defense, energy, education, the environment and national security.
"Halco is proud to contribute our ProLume T5 High Output linear lamps to such a impactful, local group," says Kim Cook, President and COO. "The Kell Robotics team has taken great strides to support their mission of developing the next generation of leaders eager to solve problems and reach their career potential. We're excited to have the opportunity to support the Kell team."