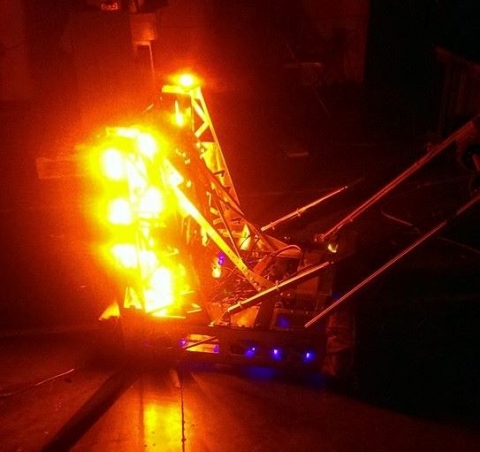 Irma Barker was at the Myrtle Beach Convention Center on Friday to support her namesake, IRMA, at the Palmetto Regional FIRST Robotics Competition.
"I'm here rooting for her," said Barker, 84, of Conway. "With a name like that, it has to win."
IRMA the robot was built by students from Carlton J. Kell High School in Marietta, Ga., who named their entry for the mother of their lead mentor, Ed Barker, a Conway High School graduate.
While Irma Barker has that connection to the out-of-state team, she also has her eye on the 12 teams from Horry County Schools, where she was executive secretary for the superintendent and school board until retiring in 1991 after 36 years.
"It's great there are so many teams, and Ed's helped get some of them started," she said. "I think it's really going places."
By all accounts, it already has.
The regional moved to Myrtle Beach last year, in part because of the school district's push for robotics and STEM (science, technology, engineering, mathematics) education. The event had doubled in size, bringing 65 teams of students, mentors and parents to the Grand Strand during the shoulder season and drawing 3,000 spectators each of the two competition days.
Organizers expect the same crowds size this year, said Frank Lanford, regional director for FIRST Palmetto Regional Robotics, who said a special waiver was needed to expand this year to a record 67 teams. The event is the largest regional and features teams not only from South Carolina, but from other states and from Canada and Brazil.
"We filled up [when registration opened] in less than 5 minutes and have a waiting list," said Ashley Gasperson, HCS coordinator of digital communications. "It's like a two-day pep rally, and it consumes you, but this is the most amazing thing to do with the kids instructionally."
FIRST (For Inspiration and Recognition of Science and Technology) Robotics is the largest organized competitive robotics program in the world. Teams have six weeks to design and build a robot that can perform the tasks of a specific game, and the competition is designed to encourage interest in STEM skills and teach students how to solve problems and work together.
Teams compete in assigned alliances of three to score points in the game, which this year requires robots to toss or push a giant ball through various goals. While some students operate the robots, others scope out other teams and plan strategy. The eight highest-scoring teams get to choose their own alliances for the finals from any team in the competition.
Robots battled Friday in front of a boisterous crowd decked out with signs and team colors, including someone from a yellow team dressed as a banana. Horry County teams faced off against each other with robots in varied designs. While some tried to score goals, others got downright aggressive, such as the robot from the Academy for Technology and Academics – part of last year's winning alliance – which at one point tried to defend its goal by forcefully blocking a much-taller robot from Conway High.
Myrtle Beach High School competed in an earlier round and had a problem with the program drive in its robot. The team made repairs back in their pit.
"It was terrible," said Mason Thigpen. "We were the robot stuck up against the wall."
Mason's older brother, Matthew, was at the competition, but as a college mentor for Columbia's Dreher High School team. Nobody in the family takes sides – "We all want the best for each other," Mason said.
The event brings many people – some first-time visitors – to the area, which is a lift for businesses during the slower winter season. It also benefits local teams that save on travel and other expenses by having the competition at home.
"We estimate that the three-day tournament generates 5,600 room-nights, which translates into direct spending of approximately $1 million for the local economy," said Mark Kruea, Myrtle Beach spokesman.
Myrtle Beach's Accommodations Tax Advisory Committee has recommended that the city put up $20,000 toward the event, which is about $137,000. Kruea said the council saw a presentation Tuesday but has not voted. The Horry County school board has pledged $20,000, and organizers are working with the county and area businesses on possible sponsorships.
Horry County Schools is the only district in South Carolina this year to have a team entered from all of its high schools. The regional's 12 rookie teams include three high schools from the district – HCS Early College, North Myrtle Beach and Aynor, which got assistance over the summer from Barker, the assistant director for advanced computing at Kennesaw State University, who has worked for nine years with the 33-member Kell team.
"You need other teams to help you get started," said Barker, adding that teamwork is part of what FIRST is all about. "Being a mentor is a profound experience. … Students discover interpersonal skills they didn't know they had and opportunities they didn't know existed. It can be absolutely transformational."
Dawn James, Aynor's media specialist and a team leader, said the team benefited from Barker's workshop and from the support they received at school and from the town of less than 600 people, which produced 19 team sponsors.
"The first goal was to pass inspection and just get on the floor, but we're competitive," James said. "Our whole school got involved. That's how we do things at Aynor – we're all in."
Contact VICKI GROOMS at 443-2401.
This article is copyright of The Sun News.
Read more here: http://www.myrtlebeachonline.com/2014/02/28/4062492/robotics-competition...